It's all bullet points this week…
–I arrived here last Friday evening, in time for a nice dinner with my friend and her mother.  Saturday was sunny and hot, so we strolled around town for a bit.  Checked into the Jardin du Luxembourg (along with almost everyone else in Paris) and saw a lovely impressionist exhibit in the Musée.  Superbe!
–Wifi access in Paris is terrible.  The Greeks are years ahead of the French in this respect.  As a result, I am posting this from the safe, American confines of the Hyatt Regency in the lobby lounge.  I feel like I am in a de facto embassy.  The signal is crisp and brisk, the coffee fine.  In the background a pianist is noodling "Somewhere Over the Rainbow."  Not my favorite noodle.  Now that tune from "Cats.'  Is that a Lloyd-Webber construct?  May his fingers wither…
–Sunday was cloudy and cool and the Jardin de Bagatelle was all but empty.  Lovely, really lovely.  Shot a roll of film along it's green anhttp://johndcmasters.com/wp-admin/admin.php?page=thesis-optionsd quiet paths.  Dinner at home that night.
–Monday was the Louvre.  Big place.  Lots of art.  Mobs of people.  Tough to navigate, but we managed to see all the important stuff…almost–skipped the Middle Ages.  Everyone was gathered around the Mona Lisa and the Venus de Milo…No one upstairs in the 16th-18th century Flanders/Belgium exhibit.  We had the place all but to ourselves.  That precious Vermeer seamstress…Always nice to know there are better works in the museum than La Gioconda and the Venus.  Really, there are.  Many more.  Dinner that night at Le Dôme.  Table side service and bouillabaisse.  Superb!  It was a rainy night in Paris and we had fish soup.  Nothing better.
–Today was Musée d'Orsay and, I must admit, I enjoyed it more than the Louvre.  Smaller, but loads to see.  Dinner tonight was at Bistrot du Parc, down the street from my friend's house in Neuilly-sur-Seine.
–To be honest, I am saturated right now with art, so tomorrow we will have a day outside.   It is supposed to be sunny…the Eiffel Tower, Place de la Concorde, Arc de Triomphe, walking the Champs Elysées…shopping for charcuterie and cheese to "bring back" to Greece.  Mussels, salad and tarte "Grand-mêre" on the menu at home for tomorrow evening.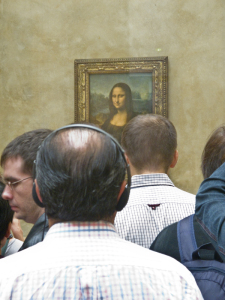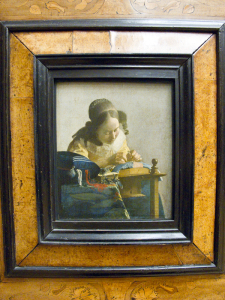 –Thursday night I head back to Greece and work–my own as well as the labors of others.
–JDCM