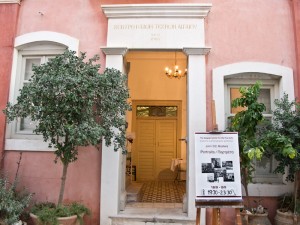 It is quiet here on Paros.  The tourists are leaving in a steady flow.  French, English, Italian and Greek…For many of them next week is the beginning of the school year for their children.  Here at the Aegean Center, this is true as well.  The Autumn Term begins next week in Italy.  My show comes down in 11 days.  I am very pleased with the reception I have had.  I am still seeing about 25 people per night visiting the exhibition and have had many interesting conversations with tourists and locals alike.
The summer is winding down and I am about to experience my first September on Paros.  I have heard it is the best time of year, a reward for making it through the high season:  warm, sunny, quiet…
So I will ride my bike, swim in the sea, take care of some maintenance in the school darkroom, sweep the courtyard and water the plants.
Before I know it it will be September 25th and I will be in Athens, meeting up with the school and then returning here on the 28th.  To paraphrase Bukowski, time runs like wild horses over the hills…
JDCM