After the busy-ness of Milos, I boarded my beloved Aqua Jewel and headed north to Serifos for another 3-4 day stay on that little island.  I had been told by one Greek person that Serifos "was spoiled".  I am not sure what she meant but I have found the exact opposite to be true.  This is a charming place; rugged, undeveloped in the ways of other islands and, in the words of another friend, like Greece was many years ago.  Yes, there are tourists, but not so many.  There are boats in the harbor, but again, not so many.  It is, in some ways, similar to a little backwater town that is somewhere off the tourist maps.  I mean this in a good way.  The locals are very hospitable, the food is tasty and the beaches are lovely.  I spent the early morning and mid-afternoon on a quiet beach called Vagia (vay-ya)on the island's southern side.  There was no one there the entire time. This may to do with the month since June is not the high season for them, but in reality I needed my little Suzuki Vitara to get down to the sand.  Also, there is no public transport so you must drive there.  It is too far to walk and the heat even at 10:00hrs grows oven-like.  In any case, I swam and basked in the sun for a while, then did some crunches, my bicycle pumps and some stretches before having another swim, drying off in the sun and heading back off to take some pictures.
One of my favorite subjects is old equipment left over from the influx of humans and their work.  Like Milos, Serifos was heavily mined, but only since 1885.  The mines closed in 1963 and what is left is fascinating.  Ore carts, tracks, trucks, buildings, machinery of all sorts lay scattered around parts of the island, primarily in Mega Livadi and Koutalos.  I am enthralled by this milieu as it always reminds me of the poem 'Ozymandias' by Percy Bysshe Shelley.  These wrecks of industry lying powerless among the thorns, rocks and heat are a reminder of the futility of mankind's hollow greed and hubris.  Someday when the human species has disappeared from the face of the Earth, the Earth will swallow the remains, turning them back into the minerals and metals from which they came.  We all return to the Earth, it seems, even our tools.  This may sound bleak but I find great comfort in knowing that the Earth is a more powerful force than we are.  It keeps me right-sized.  As a photographer I find endless textures and shades of color in these objects and they contain a beauty all their own.  I had to do some hiking to get the images I wanted but these places are not roped off and are safe to approach as long as one uses common sense and simple caution.
My hotel is situated on the peralia, the strip of road the runs along the half-moon of the natural harbor.  The Hotel Maistrali is a clean, neat place and the owner Bobbi is a charming host.  We have already had conversations concerning politics, mining, and Serifian history. He has looked at the map with me and told me of the high and low points to see and avoid.  Not much to avoid, but still…I found his place via another travel website which is also a wealth of Greek information.  I am here for another two full days and am looking forward to more photography, more beach time and general sightseeing.  Tonight I will have dinner in the chora, the older town up o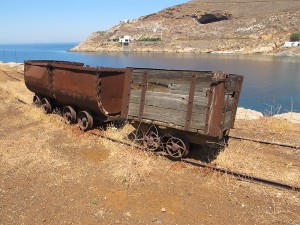 n the hillside overlooking the harbor.
JDCM