Below my hotel balcony the city breathes deeply.  Tribal drums motivate interpretive dance, guitars reverb surf music through metro tunnels, amplified bouzoukis in Syntagma stir a metallic thrum, mingling the aromatic sounds into a heady stew.  And the smells!  Food, concrete, diesel, piss and old, old stone.  Athens is alive!  In the distance I hear a saxophone, I imagine the player–sunglasses at night, hat on the sidewalk at his feet, the slow crooned blue woodwind wail runs through the ancient marble veins.  Voice carry up from the street–all the languages I have ever heard and many from central Asia, east Asia, Eurasia…The Cosmopolis…the world as a city.  It is here. I am here.  It is my home.  I am blessed.  I wear the sign of the anointed.  If you have to ask, you'll never know.
I was in taxi and the driver and I were talking.  He told me had two jobs and was raising his three children by himself.  "You have three jobs then, " I said.  He laughed in agreement.  "I think this is the beginning of something", he said.  "There is only one choice now for us and it is that things will improve.  There is no other alternative."  It must be the truth.
This is the beginning of something.  It is all happening here.  The Pope came to town.  There are rumbles of possibilities and energy flows, rich static arcing through the crowds in Monastiraki, Psirri, Exarchia, Sygrou Fix, Thissio, Keramikos…We wait for the great popular firework display, crescendos of chrysanthemums and showers of sparking lights heralding a New Age.  The Emperor will emerge, naked. The applause will be deafening, the laughter unending.  The party is always starting…
I have worked for the past few days deep in a secret archive in the city, a vault of imagination and celluloid.  We are alchemists turning crystals into precious metal.  Magicians.  The dancer moves across the page, fading into view.  Her body leaves atomic molecules, drifting bits of herself, richly perfumed droplets of life.  She bursts from her black background, glowing, free and transcendent.   This is what it is all about.  We plant our collective flags and cry "This is me, this is who I am!" We glow, shine and dance through the traffic, gathering stars in our arms, passing them out like leaflets to the big show.  Entasi!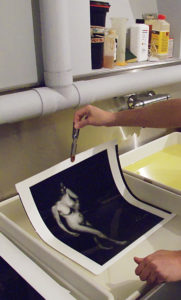 –JDCM