It is Easter here.  The symbolic nature of the the life/death/life cycle are not lost on me.  My grief over the death of both my parents last year will continue to shake my psyche for some time.  This week I have been particularly sad.   My father and I had a troubled and difficult relationship.  Still, I miss his little emails about what he would be making for dinner, what he was reading…My mother?  Ah, yes…mama…
She was my center.   She was stability and gentleness, support and unconditional love.  Regardless of my age or maturity, she was there.  I would come home and she would greet me at the door with a hug.  If I had telephoned beforehand, she would have always asked, "What do you want for dinner?"  There was always food, hugs, warmth, encouragement.  Roast chicken. Pot roast.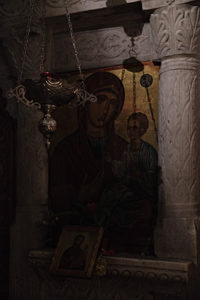 Amidst this crushing grief,  my family and I are all but forced to sell her house, the house where I grew up and, for 47 years of my life, the only home I have ever known.  It is a matter of practicality since none of us can afford to live there and pay the taxes–and for this I am ashamed.  I can only speak for myself.  I have had to reduce a source of protection, nurturing and golden memory into a commodity, something to be passed on to strangers.   May they find the same hub of stability there that I have known forever.
I decided 3 years ago to move to Paros full time, to make my home here, to try to sink roots in this rocky land.  The deaths of my parents has rendered my old compass obsolete and my maps out of date.   Previous points of reference have faded and mean too much or nothing at all.   My new compass is a thing of beauty–bronze, marble, sunlight and the wine-dark sea.  My new maps are crisp and unmarked.
So darkness and light, death and life…we grasp for handholds on our respective islands.  We find ourselves in treacherous waters, between rocks and the hardest of places.  Tonight at midnight the lights will go out and from behind the curtain the magic appears…a single trembling flame–hope for the hopeless, a light in the darkness.
Kalo Pascha!
–JDCM