I just helped a friend board the Blue Star ferry 'Delos', en route to Pireaus.  It is Sunday evening, May 12, on Paros and the Easter season has ended…finally!  The smell of lamb fat has rinsed from my hands, the out-of-towners are returning to their homes and the island is quieting down.  I was shocked by the crowds already on board the 'Delos' as well as those embarking.  Hordes.  Masses.  All with rolling luggage dragging behind them, seemingly forgotten in some small dusty corner of their minds.  Passive traveling at its worst.  Why is it that we forget about the items directly behind us and we tend to lead with memories from so long ago ahead as if they are current events? Hmmm…
On the other hand, the Aegean Center students enjoyed a lovely day out at sea with Captain Tassos and his crew for our spring "Boat Trip", a somewhat circular route around Andiparos, stopping at Despotiko, then Taverna Zombos on the southern side of Andiparos for a mid-afternoon feast: gigantes, kolokithokeftedes, bean salad, xoriatiko salate, calamari, oktopodi salate, saganaki tiri…a true food event.  I needed some space, some time alone so I stayed back at the school and worked on my current painting, a view from a balcony overlooking a small courtyard adjacent to the school.  I had three hours of quiet for this and I managed to work very well, very hard and productively in that short span. Then I hopped in my trusty FIAT Panda, drove to the Andiparos ferry, went over, swam  at both Livadia and Agios Giorgos beaches, took some pictures (film and digital) and met up with the rest of the school for the above-mentioned meal.  Orea!
Here is an image from today.  A view of Andiparos–Leica M8, Voigtlander 28mm, ISO 160, F/16, 1/125, hyperfocus…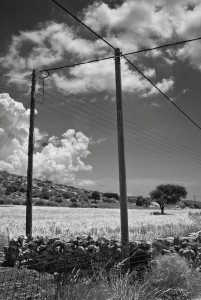 Some walls, a lamp,  sea, sky, clouds.  Enjoy!
JDCM